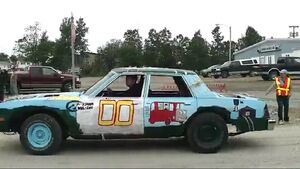 Josh Fry is a good derby car driver. At times his cars don't work we'll, but apart from that he is amazing. I'll let you know that Josh Fry was in the 2009 Gander Derby and probaly the 2008 Gander Derby. But I only do 2010-present. His number is always #00.
2010 Gander Derby+
Edit
In 2010 Josh Fry put a 1990 Chevy Hearse in the big car round. It was black and had a little bit of paint splatters on it. It didn't enter well cause it entered smokin badly.
2011 Gander Derby
Edit
In 2011, Josh Fry put a 1989 Mercury Grand Marquis in the big car round. It was blue and had a Thomas the train design. It looked cool and preformed swell. This was one of his cars that never had one thing wrong with it.
2012 Gander Derby
Edit
In 2012, Josh Fry put a brown and blue 1983 Cadillac Eldorado in the big car round. It was already beat up but it performed well. In the end it kinda looked like a Cadillac Eldorado Wagon. "It looks like it has been in the derby already" quote announcer
2013 Gander Derby
Edit
In 2013, Josh Fry put a blue and turquoise 1990 Mercury Marquis. It had Charlie Brown on the side and still had number #00. It came like 3rd in big car survivor round and did well in first big car round. In compact car round Josh Fry put in a blue and turquoise 2002 Ford Focus with no designs on it, just color. Funny joke is, his number was $0.00.